The Pentagon's top acquisition official said Thursday she does not expect a full-rate production decision for the F-35 to slip beyond March 2021 despite a delay in testing with the program's new Joint Simulation Environment (JSE).
"I am confident that we are going to meet the March date. We have the entire government-industry team focused on that," Ellen Lord, the under secretary of defense for acquisition and sustainment, told reporters. "There have been setbacks within the JSE from COVID. It is a very close working environment. The team, very quickly, moved out to follow all CDC guidelines to make sure we had a safe working environment."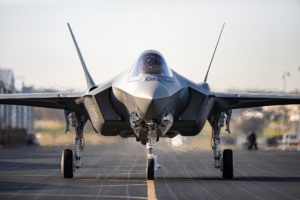 Lord acknowledged that a critical test with the F-35 JSE has been pushed to December, adding that she is visiting the Pax River Naval Air Station next week to check on the program's progress.
"We are also working through just the technical maturation of simulating these threats, and it's an iterative process. The reason I am going there next week with Bob Behler, our director of OT&E, is to understand exactly where we are and make sure the team has all the resources they need. And I look forward to continued progress," Lord said.
The JSE simulations are expected to understand how the F-35 would fare against advanced threats, and will serve as a capstone demonstration ahead of the planned full-rate production decision next year. 
Previous integration issues have caused delays moving forward with JSE, which is a scalable, expandable, high fidelity government-owned, non-proprietary modeling and simulation environment for testing the fifth-generation aircraft (Defense Daily, Oct. 18).