The Navy awarded Lockheed Martin Sikorsky [LMT] a $471 million modification to procure the second set of six VH-92A presidential helicopters in the replacement program.
This option awarded from the initial contract procures six low rate initial production (LRIP) Lot II aircraft, interim contractor support, and six cabin interior reconfiguration kits.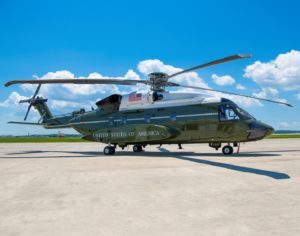 These VH-92As will be part of the planned 23 helicopters to replace the White House's current transport fleet of VH-3D "Marine One" Sea Kings and VH-60N White Hawks in Marine Helicopter Squadron One (HMX-1), also produced by Sikorsky.
Of those 23, 17 will be production, four will be for training, and two for testing. HMX-1 is responsible for vertical-lift support of the president and his staff, other heads of state, Defense Department officials, and other VIPs. The Navy plans to buy the 17 production aircraft from fiscal years 2019 to 2021.
The new helicopters and equipment are due to be finished and start delivering in December 2022. The company said remaining production aircraft will be delivered in 2022 and 2023.
"The program continues to progress on budget and within our planned acquisition timeline. The award of LRIP Lot II reinforces the importance of this Marine Corps no-fail mission especially as we move into the next phase of government testing this year," Col. Eric Ropella, PMA-274 presidential helicopter program manager, said in a statement.
Work will be split among Stratford, Conn. (50 percent), Coatesville, Pa. (36 percent), Owego, N.Y. (10 percent), Patuxent River, Md. (three percent), and Quantico, Va. (one percent).
The full modification award will be obligated at time of award.
"Now that we are ramping up production, the VH-92A program is gaining momentum. This second contract award demonstrates the confidence the U.S. Marine Corps has in Sikorsky's proven ability to deliver and support the next generation Presidential helicopter," Dave Banquer, Sikorsky VH-92A program director, said in a statement.
The Navy awarded the initial $542 million contract for the first six LRIP aircraft last June and they are set to be delivered between 2021 and 2023 (Defense Daily, June 11, 2019).
Sikorsky underscored the initial six LRIP helicopters are undergoing modifications at the company's Stratford plant and are on schedule to start delivering in 2021.
After the first aircraft award, the company subsequently planned to close the Coatsville plant due to a slump in the rotorcraft market, explaining the initial six engineering and manufacturing development phase helicopters were not enough to keep the workforce fully employed. The work would have moved to other Lockheed Martin facilities.
However, in July, Lockheed Martin CEO Marillyn Hewson said the company decided not to close its Coatsville plant after being urged by President Trump to keep it open (Defense Daily, July 11).
The company noted the VH-92A text aircraft in Patuxent River, Md., have undergone over 1,000 flight test hours. Sikorsky previously transferred five helicopters to government testing and a sixth is currently undergoing modification and will enter government testing this spring, the company said.
The VH-92A is set to enter Initial Operational Test and Evaluation later in 2020.